| | |
| --- | --- |
| | This week is the 25th anniversary of the mass Bosnian genocide in Srebrenica, 1995; the worst atrocity on EU soil since the Holocaust. But most people are unaware of what happened, this week serves to remember the innocent people lost and crucially raise awareness. |
Background: On July 11th marks the day where 8372 Bosnian men and boys were unjustly killed by ultra-nationalist forces who planned to create a 'Greater Serbia', free of Bosnian Muslims, filled with only ethnically pure Serbs. Srebrenica was an UN-declared 'safe zone' to which tens of thousands of Bosnians fled to for refuge; however due to the lack of support and help, the soldiers failed to protect them. The bodies of the victims were buried in mass graves, but many of the bodies weren't found and some had parts missing. The late Hatidza Mehmedovic (mother of Srebrenica) details how only 2 leg bones of her older son were buried.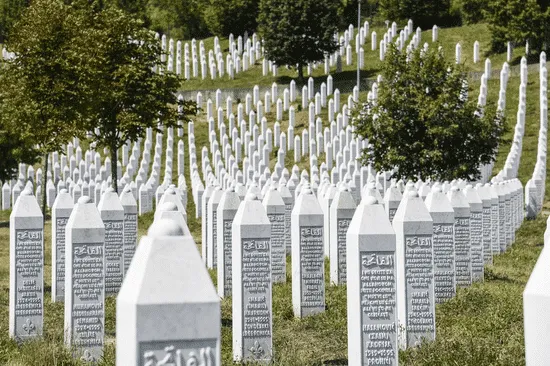 Why does it matter: Jo had a special relationship with Bosnia and Herzegovina, she visited Srebrenica and ran a camp for orphans from the eastern Bosnian town. This memorial week and survivors still fighting to have their voice heard still 25 years later is to make sure no-one experiences the same fate and to warn the world, so we can learn from what happened by educating younger generations. This also reaffirms our commitment of standing up against all forms of hatred, prejudice and misogyny that targets groups based on their religion, ethnicity, gender, sexuality or any 'otherness'. This is relevant today as it's important to come together s people of the UK to celebrate our diversity and stand up against discrimination in our own lives.
What can I do today: Our theme 'Every Action Matters' seeks to encourage every person to reflect upon their own actions and behaviour to demonstrate despite how insignificant it may seem, that it has an impact on the world around us. It sets out to dispel the notion that one person alone cannot make a difference but that that action matters and they can achieve a great deal. So we hope you will join us in
Mourning the loss of those who died at Srebrenica.
Visit the Remembering Srebrenica website to learn more.
Reflecting on how we as individuals, groups and communities can come together to build a better future without hatred.
Taking people on the 'Lesson from Srebrenica' education visits programme on the RememberingSrebrenica website to learn lessons from survivors
Creating community champions who PLEDGE to stand up to hatred and intolerance in their communities. Make the Pledge.
Raise awareness on social media using #rememberingsrebrenica #srebrenica25
Inform those who aren't aware of what happened, friends and family.