Inspired by Jo Cox MP, the Great Get Together brings together communities to celebrate what unites us, to bridge divides and to make new connections.
Each summer hundreds of Great Get Together events across the UK take place on the weekend closest to Jo's birthday in June. These events reject division and bring to life her message that we have more in common than that which divides us.
Loneliness was an issue of great importance to Jo and each year we also run the Great Winter Get Together in January to demonstrate the power of meaningful connection to reduce loneliness.
The Great Get Together restores my faith in human kindness and confirms the need to connect and interact with others.
---
Discover the story of the Great Get Together
The impact of the Great Get Together
65%
of attendees felt inspired by their participation to volunteer at a local project
100%
said they knew some or lots of people locally after attending a Great Get Together, an increase of 19%
97%
of attendees said that attending a Great Get Together positively affected their health and wellbeing
What's coming up?
The upcoming Great Winter Get Together will take place in January 2023. More details will be announced soon, sign up for email updates below to be the first to know more!
FAQs
FAQs
Find out more about the Great Get Together by browsing our FAQs.
Resource library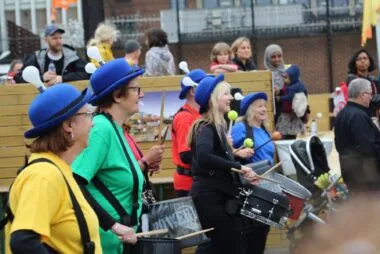 Resource library
Browse useful toolkits and resources all about building stronger communities.
More in Common Network
More in Common Network
Inspired by running your Great Get Together? Join our year-round More in Common Network.
Sign up for updates on The Great Get Together
"*" indicates required fields
Latest news about the Great Get Together