For this Volunteering Spotlight, we spoke to Natalia, the coordinator for PeerTalk support groups in West Yorkshire.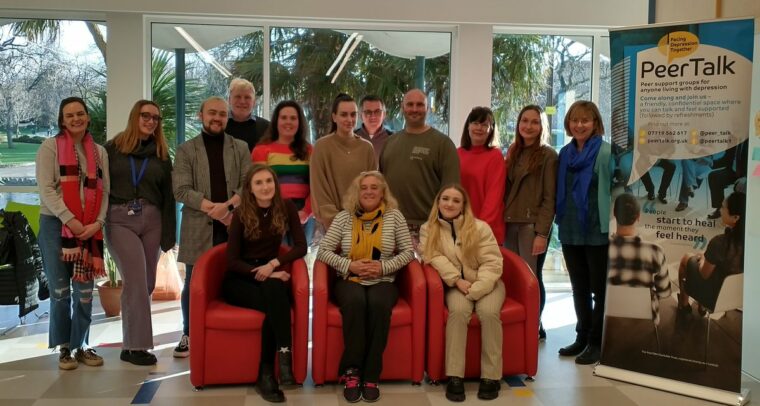 PeerTalk is a registered UK charity providing in-person peer support for groups of individuals experiencing depression, anxiety, and related distress. They currently have 16 support groups in England, with 2 in Kirklees, taking place in Batley and Huddersfield.
Typically meeting once a week, two trained volunteers facilitate each support group. Whilst they don't provide therapy, they ensure a safe space and environment enabling attendees to share their experiences.
"Essentially what our volunteers do is they use their active listening skills and paraphrase and summarise what an attendee has shared in a meeting and they open up the group a little bit more to ask other people if they have any advice, any coping strategies that they can advise of."
The support groups are open to everyone aged 18+, regardless of gender, with no waiting lists, referrals, or bookings required. "People can just come along," says Natalia, "They can give it a go, and if they don't like it they don't have to come again, so it's kind of a non-pressure environment, which I think is really good."
PeerTalk is dedicated to ensuring everyone has a non-judgemental space to share their lived experiences, whether they're regulars or only attend for a short while. The facilitators are always on hand to listen, even if nobody comes to a session for a few weeks, "our volunteers are still there waiting for the first half an hour of the meeting or so, waiting to welcome people and we don't give up. So we are there every single week, no matter what."
Given the demand for mental health services in the UK, Natalia believes organisations like PeerTalk can work to alleviate the pressure on the NHS, providing an option for people who might benefit from low-intensity, talking support. It's supported by a recent evaluation conducted by Sheffield Hallam University that brought together a focus group of PeerTalk attendees to discuss their experiences.
Many of them shared similar sentiments in the evaluation. By having a place to talk, be heard, and find out they're not alone in their struggles, the PeerTalk groups triggered a sense of self-worth, purpose and meaning. They could apply coping strategies shared by their peers experiencing similar issues, giving a sense of camaraderie and creating a positive impact on their lives and well-being.
"We know that we are actually valued by other people, but we do not always feel it, so, to go and share with people and hear them share gives you that real– yes, it's that high five together, all for one, one for all kind of thing, musketeers."
Additionally, they meet with their volunteer facilitators every 8 weeks to provide support and help them carry out their role with confidence, as well as discuss the support group and understand the current issues facing the attendees. Each volunteer goes through a training process, with training days typically taking place in each area once a year.
All someone has to do to volunteer, says Natalia, is get in touch, "our volunteering application system is open all year round. So, all volunteers have to do is go on our website."
Once you've filled out the application form and provided a couple of references, you'll be invited to a training day and asked to "commit to 18 months of volunteering". While each support group will have between 6-9 volunteers facilitating 3-4 sessions per quarter, a long-term commitment ensures the sustainability of the groups and provides familiar faces for attendees.
Volunteers are incredibly important to the self-sustainability aim and functioning of PeerTalk, which has only a handful of staff. With around 120 volunteers in the UK and 40 in West Yorkshire, they're vital in creating a place for attendees to rediscover and develop their confidence as they talk freely about their experience without fear of judgement. As one participant said in the Evaluation report, "So, you are in a safe space, and you have not got anybody there that is going to judge what you are saying, and nobody is going to laugh because you felt a particular way in a particular situation or you watched Yogi Bear and cried because it made you think of something else."
And volunteers will play a critical part in the future of PeerTalk too. Their initial aim was to set up 100 support groups across England, ensuring "one support group that is accessible to everyone, so it's within like travelling distance…so we could provide the support to as many people as possible."
Having started as a PeerTalk volunteer facilitator in Bradford, Natalia thinks volunteering is a great thing to do. "I think because you choose to volunteer yourself, you can pick out the opportunity that's best for you, but I think the advice I would give is to research the kind of thing you would be doing."
If you're looking to join a support group in Kirklees, the Batley support group takes place every Wednesday 11:30am-12:30pm at Jo Cox House and the Huddersfield support group is on Thursdays 7:30pm-9pm at The Lounge, St Paul's Methodist Church.
For further information and discover how to join a PeerTalk support group or volunteer your time, you can follow them on Twitter, Facebook, or visit their website. Additionally, you can email them at [email protected] if you have any queries.