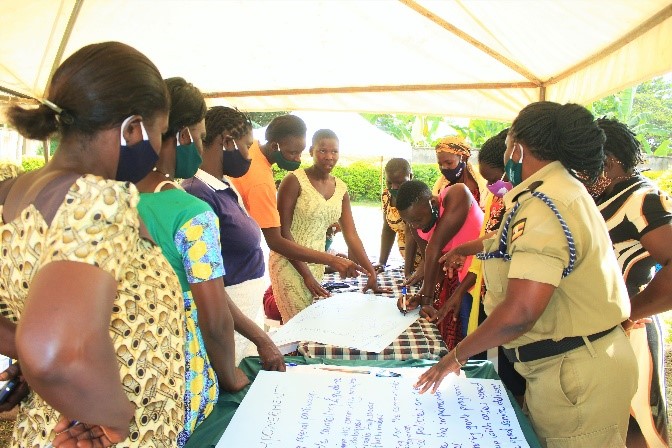 Over the past year, Jo Cox Memorial grant holders, MIFUMI, have been engaging communities in Tororo, Bukedea and Budaka districts in Uganda through a series of activities.
Its sole aim is to build a community that will recognise, challenge, and resist all forms of violence and abuse against women and children. This has included the development of a network that currently comprises of over 274 local community members, including frontline caseworkers, Independent Domestic Violence Advisors, MIFUMI Women's Rights Champions, MIFUMI Gender-Sensitive Men, and local duty bearers.
Local knowledge and engagement are key elements of the network. For example, it means that practical and context-specific strategies can be developed to respond to cases of violence against women and girls (VAWG) if they should arise. Previously there has been a lack of responsibility among the communities, around how to respond to such cases, along with misinformation about the legal processes. However, with local champions starting to understand how violence manifests, they can better anticipate and ensure positive case outcomes.
Other key strategies have been used to ensure the success and respect of the network. For example, a focus on men speaking to men has been seen to bring about attitude and behaviour change. Key male stakeholders use men-only spaces, including drinking clubs, as an area to influence men from inside traditional patriarchal spaces. With the confidence that champions have started to exude, many are starting to assert themselves in community spaces and finding increased opportunities to voice awareness and promote protection and safety for women and children. They are using these opportunities at community structures such as clan meetings, churches, saving groups, and other social clubs.
A few weeks ago, a collaborative effort between local champions, power holders and duty bearers stopped a bribe to the police from excusing perpetrators in a case of sexual assault. This is the kind of collective action the project is trying to encourage, and the network was established to facilitate.
The Jo Cox Memorial Grants
Jo Cox was a life-long humanitarian, dedicating her career to helping those less fortunate than herself. In honour of Jo's memory and her international legacy, the Department for International Development (DFID) – now the Foreign, Commonwealth & Development Office (FCDO) – launched the Jo Cox Memorial Grants in March 2018. This £10 million UK Aid Direct fund supports organisations working all over the world on two themes: women's social, economic and political empowerment and strengthening civil society to prevent violence.